Adolf Hitler
Leader of Germany from 1934 to 1945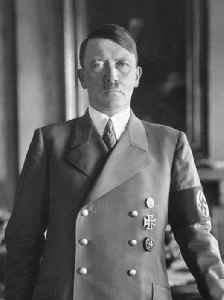 Adolf Hitler was a German politician and leader of the Nazi Party. He rose to power as the chancellor of Germany in 1933, and as Führer in 1934. During his dictatorship from 1933 to 1945, he initiated World War II in Europe by invading Poland on 1 September 1939. He was closely involved in military operations throughout the war and was central to the perpetration of the Holocaust. Hitler's actions and ideology are almost universally regarded as evil. According to historian Ian Kershaw, "Never in history has such ruination—physical and moral—been associated with the name of one man."


MOVIE REVIEW: Jojo Rabbit
by Graham Pierrepoint - JOJO RABBIT IMDb Dir: Taika Waititi Starring Roman Griffin Davies, Thomasin McKenzie, Taika Waititi, Rebel Wilson, Stephen Merchant, Alfie Allen, Sam Rockwell, Scarlett..
One News Page Staff - Published
House Hitler was born in will become a police station, Austria says
The house where Adolf Hitler was born will be turned into a police station, Austria's interior minister said on Tuesday, after years of debate over how best to prevent it becoming a pilgrimage site for..
Reuters - Published
Editor who took the rap for fake Hitler diaries
Frank Giles discovered the truth at the last minute but Rupert Murdoch, owner of The Sunday Times, ordered him to keep the presses rolling.
The Age - Published
Pope compares politicians who rage against gays to Hitler
Pope Francis said on Friday politicians who rage against homosexuals, gypsies and Jews remind him of Hitler.
Reuters - Published
Sydney auction house under fire for selling 'sinister, grotesque' Nazi memorabilia
Items from Adolf Hitler's Germany will appear at an upcoming Australian auction.
SBS - Published
Melbourne bookshop under fire for selling 'disgusting' photo of Hitler
A Melbourne bookshop is under fire after it was spotted selling an original photo of Adolf Hitler at its stall at the Melbourne Fair.
SBS - Published
On Normandy's beaches, leaders and veterans recall sacrifice of D-Day
Western leaders and ageing veterans gather on the shores of France on Thursday in a second day of events marking the 75th anniversary of D-Day, the Allied amphibious assault that opened the way for..
Reuters - Published
British veterans parachute over Normandy 75 years after making D-Day jump
Two British war veterans in their mid-nineties parachuted over the fields of Normandy, northern France, on Wednesday, 75 years after they jumped behind German defences on D-Day in an operation that..
Reuters - Published
Aussie airman helps 'sort out Hitler'
Laurie Woods' WWII service was recognised on Wednesday at a Last Post ceremony at the Australian War Memorial a day before the D-Day 75th anniversary.
SBS - Published
You Might Like